How to find us and contact us …
KATES COTTAGE Ned Kelly Gifts & Souvenir Shop, the NED KELLY MUSEUM display and the replica of the KELLY HOMESTEAD (part of Kate's Cottage, Gifts and Souvenir shop and Museum display) are located at:
35 Gladstone Street,
GLENROWAN
Victoria, 3675
Historic Sites of Events, June 1880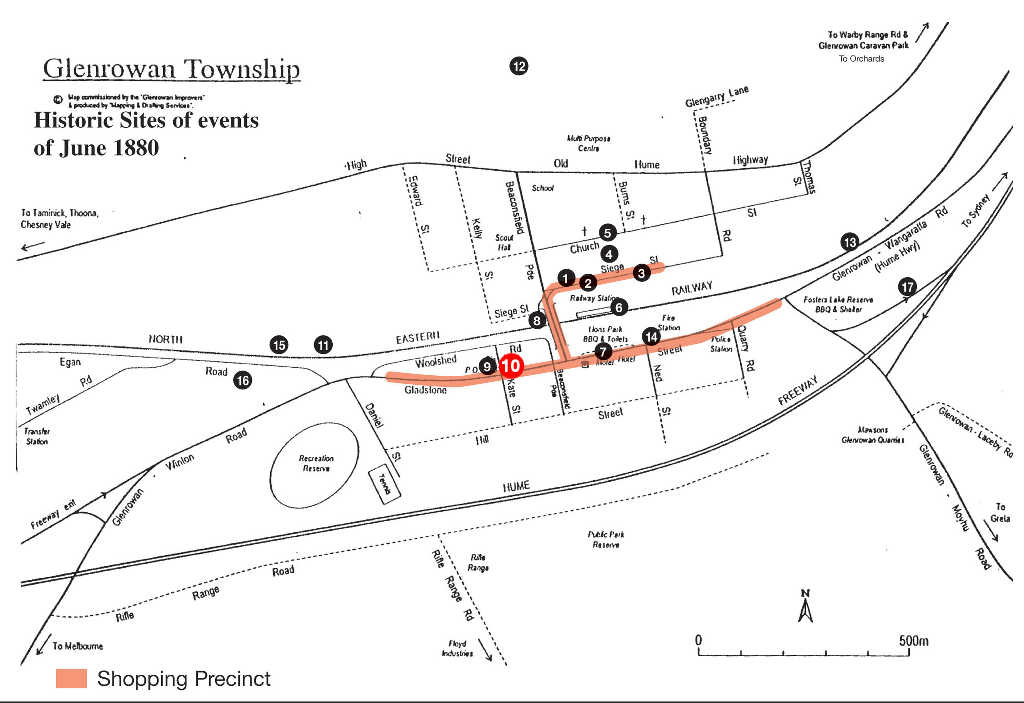 ( Click for a larger version )
Key to Map:
1Site of Ann Jone's Glenrowan Inn.
2Site Miners pistol found 1997, believed to have belonged to a Black tracker. Police Shelter Site.
3Site of Railway workers tents.
4Site of Ned Kelly's capture.
5Kelly sheltered in a copse of trees.
6Site of original Railway Station.
7Site of McDonnells Railway Tavern.
8Site of Railway Gatehouse.
9The "Big Ned Kelly" statue donated to the town by Rod & Chris Gerrett.
10Kate's Cottage Gifts, Souvenirs, Museum & Homestead
11Police train stopped & warned by Curnow.
12Mt Glenrowan (Morgan's Lookout / Futter's Ranges).
13Railway line was torn up.
14Warning Sky Rockets launched.
15Site of Police Barracks (1880).
16Site of School house (1880).
17Site where Ned met sympathisers.


Your Proprietors are:
Michelle Coad & Douglas Stoneman
CONTACT:
NedKellyMuseum@gmail.com
Phone:
( Shop )  03 57 662448
( Mobile ) 0401 654 855
For School bookings and general inquiries please fill in the Contact Form below: